The IAI Education & Social Sciences conference provides a platform for academics, researchers, and Ph.D. students to contribute with their papers on topics related to education, humanities and social sciences.
Further details are outlined below.
Registration/Abstract Submissions accepted here June 10 June 20.
You can also submit your proposal/abstract or full paper electronically via email attachment to staff@ia-institute.com
The conference will take place from June 26-27, 2018
Early Registration: 295 EUR before June 10, 2018
Registration Fee: 355 EUR after June 10, 2018  

295 EUR by 20 June 2018.

Submission Deadline/abstract June 10, 2018 

June 20.

Submission Deadline for Final Paper you would like included in the conference proceedings by July 5, 2018.
Submit your proposal/abstract or full paper electronically via email attachment to staff@ia-institute.com
Notification of Acceptance
Within 5 days of receiving your proposal/abstract or full paper, we will contact you for a notification of acceptance or rejection. If your paper is accepted, additional conference and registration-specific information will be included.
All accepted papers/abstracts are double-blind peer-reviewed and will be published in our online conference proceedings. (Unless otherwise requested)
Abstracts and full articles will be published in the proceedings section of this web page in electronic format.
Full-length manuscripts may be published in our Journals.
The review process for the journals is slower and more demanding in its standards. Although both the proceedings and journals are refereed, research that meets the refereed standards for the conference and the proceedings may not meet the refereed standards for the journals.
The location for our June 2018 conference is Hotel Quirinale Via Nazionale, 7 00184 Rome, Italy.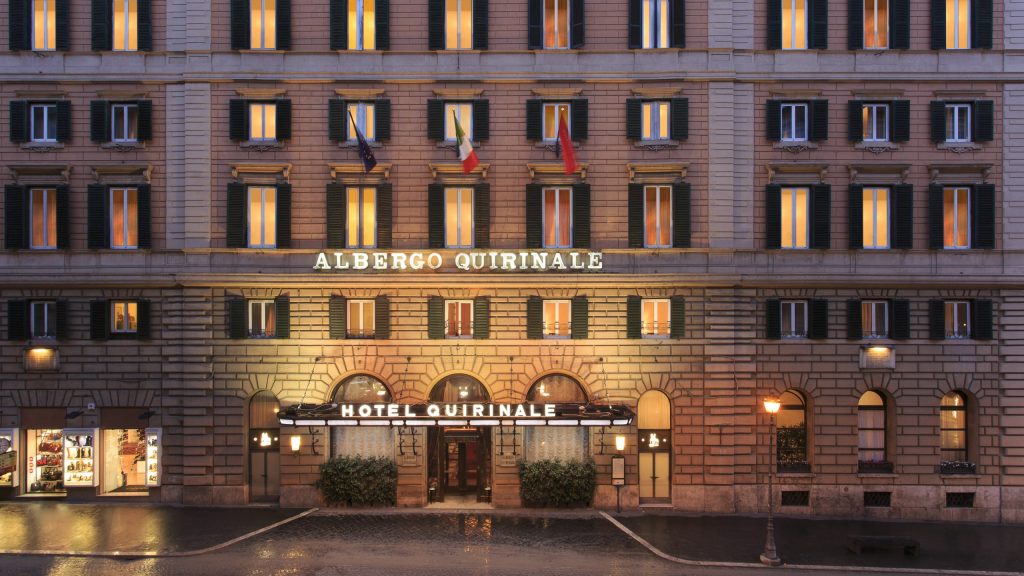 For more information please contact us on: staff@ia-institute.com
For additional information about Hotel Quirinale, visit their website http://www.hotelquirinale.it/en/
Fees for The Interanational Academic Institute 2018 Rome Academic Conference are as follows:
295 EUR per individual to attend the conference for payments on or before June 10, 2018 

by 20 June 2018.

100 EUR per additional paper if presenting more than one paper at the conference.
The conference registration fee includes: participation at the conference, 20-minute time slot to present one paper at the conference, a printed copy of the conference program, the proceedings online, and admission to all receptions, coffee breaks, etc.
All attending conference participants must pay the registration fee and at least one author per paper must attend.
For the participants that cannot attend the conference, there is an opportunity for presentation of paper through an e-session. The same fees apply for the virtual presentations.
The registration fee also includes a complimentary standard journal review of your conference paper for up to six months from the date of the conference.
The conference registration fee must be prepaid.
Please complete the conference registration form below. Attending only and non-presenting conference participants should also submit a registration form (one per participant).
Payment
You can place your payments here.
Cancellation
A full refund will be given for cancellations received before June 10, 2018
A 50 EUR administration fee is taken for cancellation
No refund will be given for cancellations received after June 10, 2018
For proposals/abstracts, your submissions should not exceed 1500 words. The proposal should include name, institute affiliation, mailing address, and email address for all authors.
For full papers to appear in our conference proceedings, your manuscript should be saved as a Microsoft Word-compatible file. Text should be
formatted for 8.5 x 11 inch paper, single-spaced at 10 points, with one inch margins and left justified. Please apply the Chicago Manual of Style guidelines. Your submission should contain the following:
Name, institute affiliation, mailing address, and email address for all authors
Paper title
Abstract
Keywords
Introduction
Body of paper
Tables, figures, etc. in their proper position in the paper (if applicable)
Conclusion
References
Brief biography of each author (one paragraph, no more than 100 words)
6. E-Presentation (Virtual Presentation)
If you cannot attend our conference but still wish to have your paper presented, we offer an E-session for your convenience. Your paper will be presented electronically for viewing and discussion using Microsoft PowerPoint with narration (voice-over). More details on preparing this type of presentation can be found here>
However, you are still required to submit a proposal/abstract or full paper and one author has to pay the registration fee.
You are also invited to attend the conference, even if you choose not to present a paper
Your Presentation
Please bring your presentation on a USB flash drive.
Each presentation room will be equipped with a laptop and data projector for PowerPoint presentations.
Conference Schedule & Proceedings
The Interantional Academic Institute will make every effort to accommodate, but cannot guarantee, your preferred presentation dates and times.
Rome 2018 Conference Proceedings will be available on our website three-to-four weeks after the conference.
Topics include, but are not limited to:
Anthropology
Arts & Humanities
Blended Education
Business Education
 Contemporary Issues in Education
 Culture
 Curriculum
 Distance Education
 E-Learning
 Early Education
 Engineering Education
 Globalization
 Health Education
 Higher Education
 History
 Human Rights
 Information Science
 Interdisciplinary Studies
 Intellectual Property
 International Education
 K-12 Education
 Law
 Language
 Language Education
 Literature
 Media and Communications
 Multidisciplinary Studies
 Music
 Politics
 Popular Culture
 Professional Development
 Psychology
 Public Policy
 Religious Studies
 Science Education
 Secondary Education
 Social Sciences
 Sociology
 Special Education
 Sport Science
 Teacher Education
 Teaching Methods
 Tourism
Urban Studies
Feel free to contact us if you have any questions!